The International COVID-19 Data Alliance (ICODA) initiative celebrated coming to successful conclusion with an online event to showcase the achievements and impact of its twelve research driver projects, joined by alliance partners, research teams and funders.  The core ICODA team also shared their reflections on delivery of the initiative and lessons learned.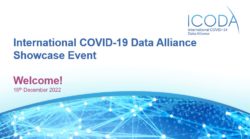 We were joined by representatives from our funders, the Bill and Melinda Gates Foundation, Minderoo and Microsoft AI 4 Health, our Executive Leadership Team and advisory bodies, as well as members of the wider global health data science community.
The event was chaired by Dr Martin J Murphy, Jr, Chief Executive Officer, Shanghai TuoXin Health Promotion Center; Director Emeritus (2020-present), CEO Roundtable on Cancer & Project Data Sphere® and co-lead of ICODA's Scientific and Strategic Advisory council.